Steam traps auto diagnostic with the program STRAPSHOOTER® + .
Former developments, LEAKSHOOTER® range of instruments :
LKS1000 version V.3+ was launched in 2019, it allowed compressed air leaks detection and steam traps control.
The 3rd of LEAKSHOOTER®  was developed for big industrial plants with a big steam generating system, and many steam traps.
Steam traps control was usually done by ear with a contact probe used as a stethoscope.
LKS1000-V.3+ is the 1st ultrasonic detector to have a dedicated steam traps control programm STRAPSHOOTER®+.
Moreover, we added an infrared camera 80*60px to measure temperature on piping.
After 1 year  of use, main improvement requests :
Compatibility of the programm to a larger range of  steam traps, thermodynamic, thermostatic and ball float steam traps.
Infrared camera resolution.
The new version LKS1000-V.3+ PRO
A completely reworked programm, which allowed a much more accurate steam traps auto-diagnostic on a large range of traps.
Besides  we realised that the embedded infrared camera was often used for all kind of applications in predictive maintenance.
That is why we decided to integrate in the PRO version  an upgraded camera with a 160x120px resolution.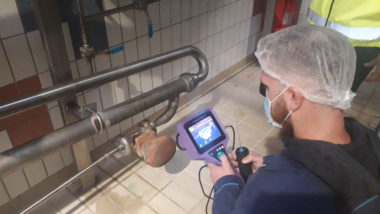 The STRAPSHOOTER® + software is now compatible with thermostatic, thermodynamic and ball float steam traps.
With the new LEAKSHOOTER® V.3+pro you will be able to monitor quickly and easily all kind of steam traps on the plant. Il permet très
Example ball float steam straps :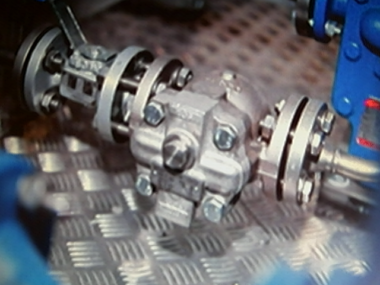 Example thermodynamic steam trap :