The 1st Thermographic Camera with dedicated software
contouring defects on a visible scene.
Easier than a standard infrared thermal imaging camera.
No more interpretation. Defective zones appear immediately on a visible scene. One of the best indicator for maintenance, quality and security is the temperature T°.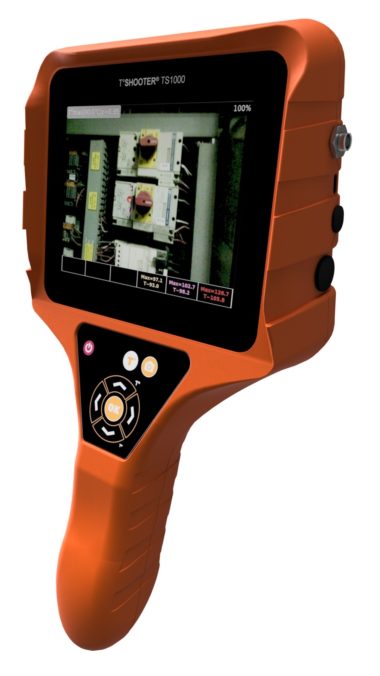 To make it easier the diagnosis of  your electrical or mecanical installations, also for beginners, SYNERGYS TECHNOLOGIES developped a software integrated in the T°SHOOTER®, which allows you to see on a visible scene up to 6 defective aereas, contouring the defective in different colors according to the severity of the trouble.
Morever it is now impossible to miss the hot/cold spot thanks to the embedded vibrator, as soon the T°SHOOTER® detects a problem it vibrated.
With T°SHOOTER you will clearly SEE on a visible scene and FEEL the default ! You cannot miss it !
Function : Thermal inspection
The T°SHOOTER® TS1000 is a new concept of thermal camera which enables you to see at a glance the abnormal thermal contours in the visible scene.
Switching from visible to thermal imaging (3x color palettes) is still possible with MENU switch icon.
Made for all users, enables faster checks, thought for the technician in terms of ergonomy. T°SHOOTER is efficient and very  pleasant to use.
3 THERMAL WORKING MODES : Visible with contour, ISOTHERM with contour, Standard infrared picture
Standard kit consists of :
Thermal camera T°SHOOTER®, for temperature inspection, hot/cold
Charger universal DC 12V-1.5A
USB cable
ABS transport case