1st ultrasonic compressed air leak detector dedicated to steam traps control !
Very powerful software with 100% AUTO MODE dedicated to Steam traps control !
Monitoring steam traps with standard ultrasonic air leak detector may often be tricky. With the New LEAKSHOOTER® V3+PRO and its dedicated software STRAPSHOOTER® +we improved the automatic diagnostic.
Easy to use – Efficient – With tracability
You just have to measure temperature on the pipes in and out of the steam trap and wait till the LEAKSHOOTER® gives you the diagnosis result after ultrasonic measurements.
Now steam traps control is done and very easy.
The STRAPSHOOTER® + software  is compatible with all kind of traps, thermodynamic, thermostatic, ball float  and inverted bucket models.
"Also note that if you have a LEAKSHOOTER V2+ or V2+IR version we can take it and convert  to LEAKSHOOTER V3+PRO."
LEAKSHOOTER® LKS1000-V3PRO is used with :
– Ultrasonic Contact probe, to analyze operating cycles of the traps
– Infrared camera 160×120 px to measure temperatures in and out the traps.
– STRAPSHOOTER®+ program to see, listen and expertise automatically the condition of your steam traps
– Embedded  camera to take a picture of the steam trap and include it in a report.
With the LEAKSHOOTER® LKS 1000-V3+PRO and its touch screen, you can easily check the status of your steam traps.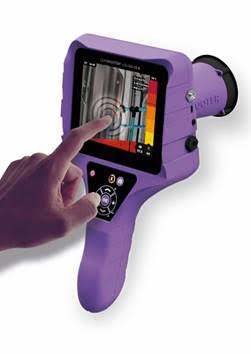 Easy check with LEAKSHOOTER® LKS1000-V3+PRO handheld device.
That is why we recomend not to wait till a dangerous water hammer  situation happen. Water hammer effects happens when condensate can not be evacuated from your steam installation and this will result not only in your system damage but also bad injuries on workers.
Moreover, we advice not to wait till a steam trap  stays on an open blocked situation, it will result live steam to be evacuated to condensate recovery circuit, wasting a lot of energy and money.
Thanks to the LEAKSHOOTER® LKS1000-V3+PRO check your steam trap installation. With its dual embedded sensor technology infrared camera and ultrasonic sensor for acoustic analysis and a fully embedded Automatic Analysis Firmware, you will be able to detect your faulty traps in a second.
Also do not forget that about 40% of your steam traps are probably failing in a bad condition and that about 20% of steam is lost through trap's leaks.
With the LEAKSHOOTER® LKS1000-V3+PRO, optimize your energy efficiency!