New LEAKSHOOTER® LKS1000-V2+IR
Ultrasonic compressed air, vacuum, and steam leak detection camera with imbedded high resolution, 160 x 120 px infrared camera.
Film, view and photograph the precise spot.
With LEAKSHOOTER® V2+ IR  you will immediately see where compressed air, steam, pressurised gas and vacuums are leaking.
From now on you can complete your maintenance tour with thermal inspection.
Thereby we added a high resolution thermal camera 160 x 120 px into the new LEAKSHOOTER® V2+ IR.
In fact the embedded camera into the LEAKSHOOTER® V2+ IR has got several functions such as :
3 cursors Min.- Max.- Central
3 colors palette, Iron, Rainbow, Black and White
Temperature range -10°C>+400C°.
Applications : Ultrasonic leak detection and thermal imaging
With the LEAKSHOOTER® V2+ IR you can find different kind of leaks such as
pressurized gaz
vacuum
steam
Moreover the sensor in LKS1000 V2+IR IS is very sensible it can detect leaks  at distance, up to 20 meters.
Likewise all other versions of LEAKSHOOTER® the LKS1000 V2+ IR is used as a camera. As you are scanning your installation and come near a leak, a dynamic white target appears on the  5.7″ display. In the same time the cursor on the bargraph at the bottom of the screen is moving to the red zone.
Then, find precisely the leak plugging in the 400mm probe and adjust the gain to filter unwanted noises. The probe is also available in 1500mm for works at height.
Furthermore we added a "Severity of the leak" function, button K on the keyboard. Actually, it enables evaluation of the severity of the leaks, from the very small, yellow, to very big, red.
In addition, we added a high resolution, 160×120 px, thermal camera.
Eventually, this new device as been designed for the many technicians using the LEAKSHOOTER® V3+ only for its embedded IR camera. Whereas the LKS1000V3+ is  more dedicated to steam traps monitoring.
Now the technician is able to complete compressed air leak monitoring by thermal inspection of mecanical and electrical installations.
All pictures, normal and thermal,  can be uploaded directly onto a PC  via USB cable supplied in the standard kit.
Standard kit consists of :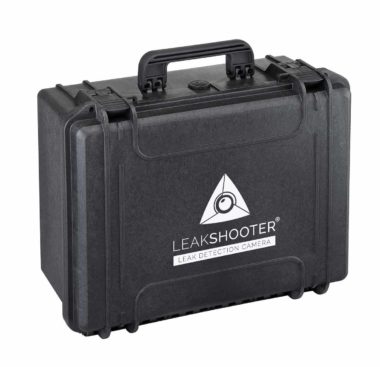 Ultrasonic leak detector LEAKSHOOTER®V2+ IR, for airborne leak detection and thermal imaging monitoring.
Headphone with adjustable volum from 0 to 10
Charger for Nickel-metal hybride (NIMH) rechargeable battery
USB cable
ABS transport case
Then finally a touch screen.